Twins released their new Cantonese album (Samba) last fri 24 June�songs collected in this album is mature�seems like they�re �growing� up..haha..no more daibi daibi stuff already..Lolz�but I still prefer their last few albums�feels a little bit weird when I the first time I listen to Samba..but after the 2nd time�its nice�but I still have no idea y the album is titled Samba? And I don like their album cover!! Their hair jus look like shit�sigh...but anyway...My fav track number 6...lolz�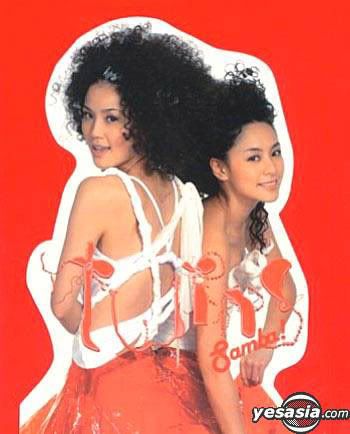 Check their official site�
http://www.eegmusic.com/music/music02.php?cd_id=245&PHPSESSID=68c8058202311416707d11e79ba90f9a
_just me_
Tuesday, June 28, 2005


Atteneded a seminar at Orchard Parade Hotel on Tuesday and Wednesday� overall session was quite fun�its an international seminar�well...there are people from Jakarta, Australia, Thailand and others�while the speaker himself is from Russia...wahaha�

Get to noe 3 very interesting frenz�they�re from Thailand�the youngest engineers amongst all�they were around the same age as myself. The girls were 1983 while the guy is 1984...lolz�we�re the youngest in the entire seminar�all the rest were business man and engineers�

We were having lunch together at the Modesto�the foods were so interesting�thought of takin pictures of the food�but then I guess it aint appropriate�cos those ppl were all grown ups and working adults�faint�I would become a laughing stock if I really do that! To my surprise the 2 girls took out their digital cam and start clicking away�omg�haha...bth....hahaha�but the guy seems a little shy�lolz�

I still rem the 1st time we get to talk and introduce each other�the 3 of them thought im from Japan�faint...we really had difficulty pronouncing each other�s name�haha�

Though the seminar ends quite early 2day�I couldn�t hang around with them�cuz its still within my office hours�and they are flying back to Bangkok 2nite�! Sigh�

Really nice bunch of guys�they just reminds me of vip..lolz�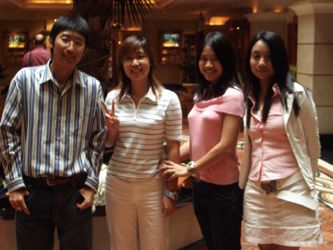 _just me_
Wednesday, June 22, 2005


Went min�s birthday chalet 2day� faint�the weather is so god damn humid�we (twins & I ) were perspiring all over when we managed to find our way there..wl..wrong direction was given to us...sianz

The girls were still the same! Haha�most of them still looks the same�got the feeling of being back in our F & N lesson..haha.. but the 2 guys came so late�by the time they came was gonna 9 already..so big card�wl�quite a lot of familiar faces too�some were NYP - ians�lolz�infact I should say a lot..as our sec classmates a lot were in NYP too..lolz

A lot of them said I�ve changed a lot�aiyo�bth�we were jus sitting around laughing at our lame jokes�esp fen, fang�so humorous�hahaha�never change after so many years�the only guys who are able to add oil n pepper into my joke to make them more spicy..lolz�lame

The greatest joke was the four wheeled bicycle rided by min..haha�the 4 of us..neither 1 of us noe how to ride�what I cant stop laughing was wat said by fen �wahh�I really pei fu ni de yong qi�!� haha�

Went strolling along the beach�beautiful sunset�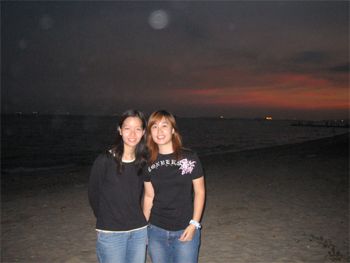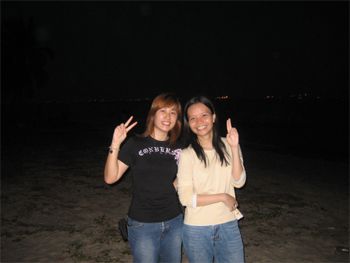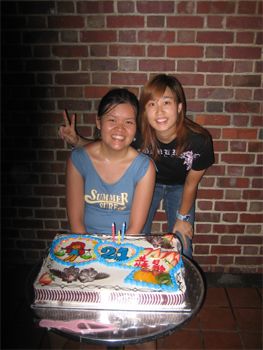 _just me_
Saturday, June 18, 2005


Is your birthday day 28 of the month?
Your Life
You are a capable person but you usually underestimate your own ability.This is the cause of missing numbers of opportunity to step forward. Ifyou try to give yourself a chance, you can be successful in life. Try to see things on the bright side and you will be happier than ever.
Your Love
You are quite unlucky in love. The one in your arm is not the one in your heart. Your love has so many ups and downs. You often chicken out before seeing any progress in love.
_just me_
Wednesday, June 15, 2005


Happy Birthday VIP...
_just me_
Wednesday, June 01, 2005